Mariah Carey And Nick Cannon Got Tatoos Before Wedding
by admin ·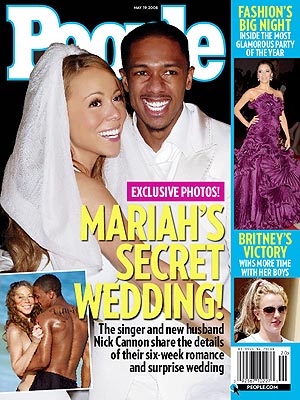 Mariah Carey and Nick Cannon confirmed to People magazine that they tied the knot at Carey's Bahamas spread on April 30. The two had been dating for a few weeks since late March.
Before trading rings, however, the couple traded tats.
"To me rings are special and exciting, but tattoos mean more than anything," Cannon gushed. "They're forever and ever. They professed our love."
Today's People mag sports pics of the wedding that had only a dozen guests. Carey wore a Nile Cmylo gown that faded from off-white to pale pink. Held at sunset, the reception offered Maine lobster and Dom Perignon champagne.
Cannon said it was love at first sight when Carey cast him as the lover in the video for her new track, "Bye Bye."
"From the first time we sat down to discuss the video at the Beverly Hills Hotel, we connected," Cannon said. "We had so much in common spiritually, and we laugh at the same things. I didn't have to put on my Mac Daddy suave mode. I was able to be myself with her. We are both eternally 12 years old."